Capabilities and Services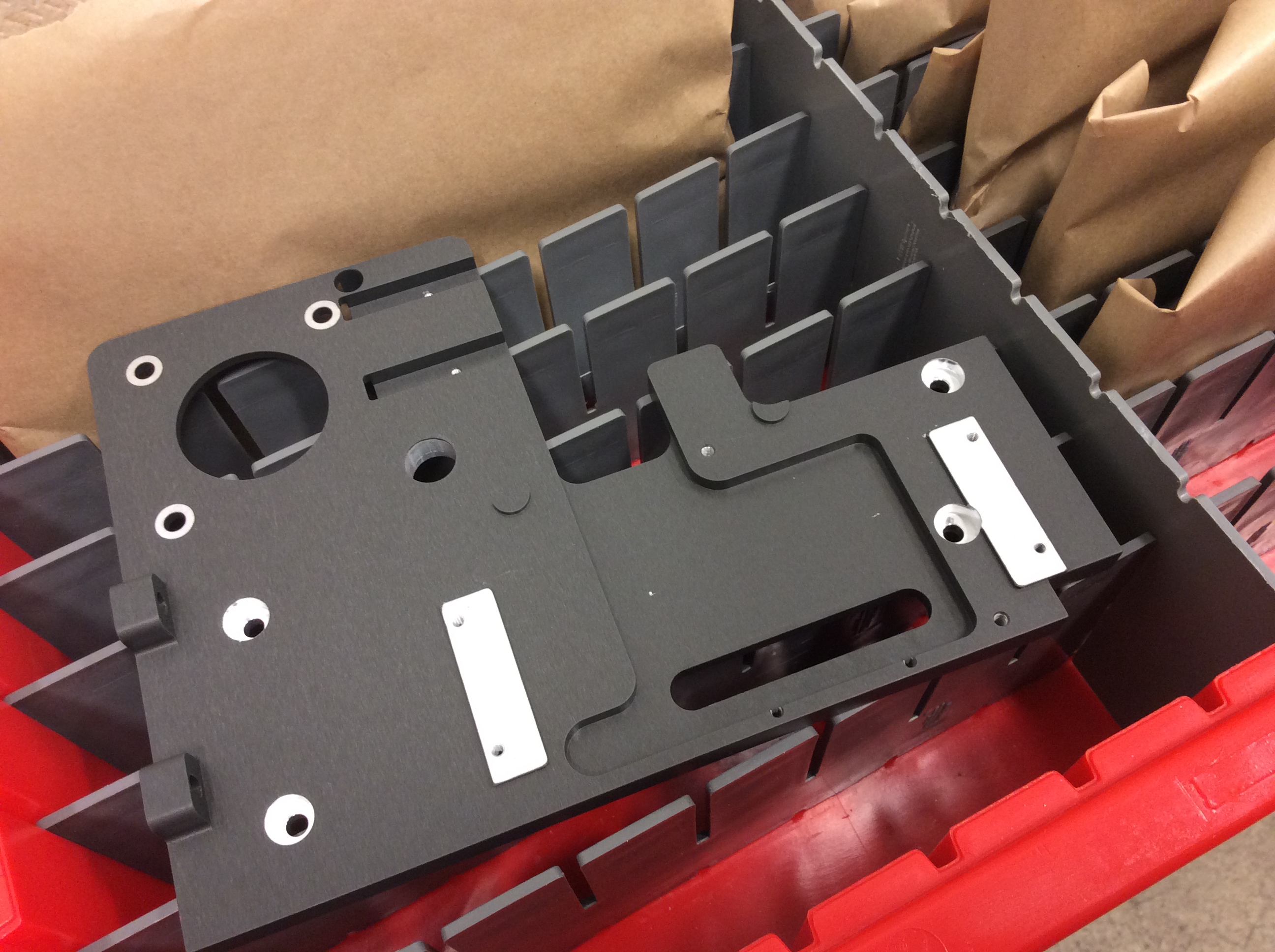 Hard Anodize provides the most protection and functionality. Structurally identical to Type II anodic films, though much thicker and denser, hard anodize offers superior durability in terms of abrasion resistance and a hardness second only to a diamond. The hard anodize chemical and physical properties are nearly identical to sapphire.
Note: Type III anodic films are considered to be "1 in, 1 out" meaning that roughly 50% of the deposit is invested into the parent material while 50% will result in dimensional growth. A hardcoat thickness of .002″ will result in .001″ per side of dimensional growth. For other facts and design considerations, visit matweb.com.
Process Values:
Superb abrasion resistance – 65 to 70 Rockwell C
Excellent thickness control from .0005″ to .0025″
High dielectric strength – 1000VDC per .001″ thickness
Dyes available are very dark (natural hardcoat is dark)
Certified for the Following Specifications:
MIL-PRF-8625, Type III, Class 1 & 2
AMS-2469 Hard Anodize
AMS-2482 Hard Anodize with Teflon
Sulfuric Acid Anodizing provides a crystalline oxide coating on aluminum, which may be transparent or dyed a variety of colors.
Depending on alloy and whether dyed or clear, coating will add .0001″ to .0005″ thickness of dimension per surface.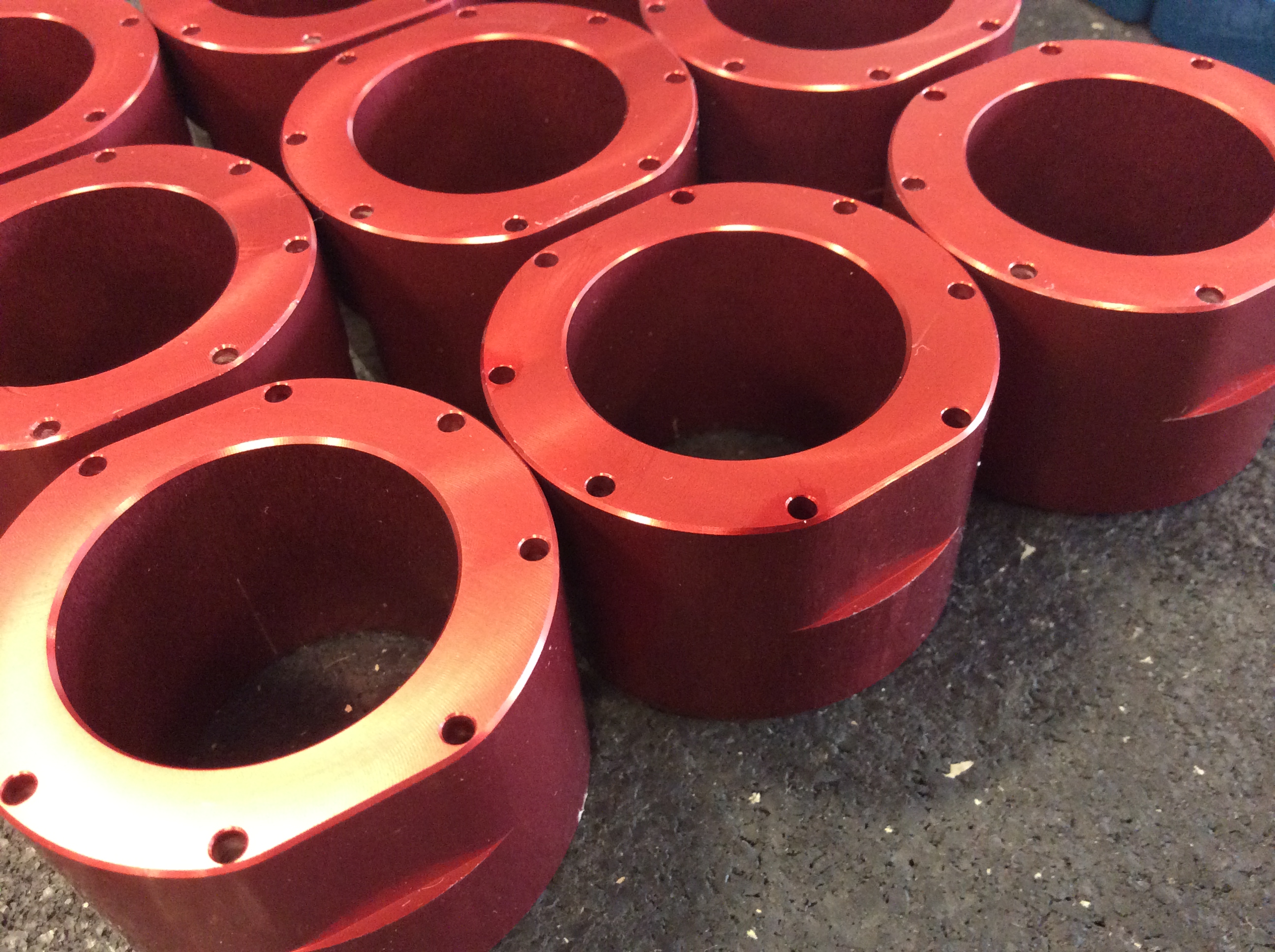 Process Values:
Excellent decorative coating that is transparent and easily maintained
Class 2 can be provided with Dyes: Black, red, blue, gold & orange.
Moderate abrasion resistance
Good corrosion resistance
Non-conductive and non-toxic coating
Certified for the Following Specifications:
MIL-A-8625 Type II Class 1 & 2
AMS-2471 Clear Anodize with Dichromate Seal
AMS-2472 Black Anodize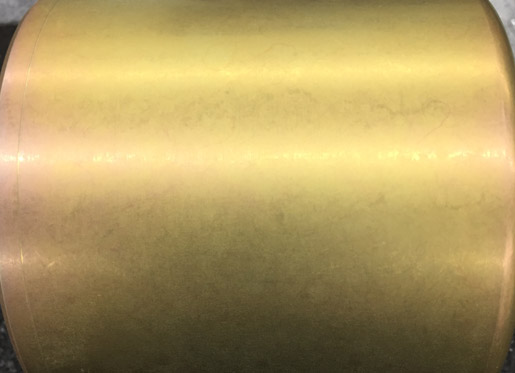 Chromate Conversion Coating
Chromate Conversion Coating (Chemical Film) covers aluminum parts with a chemical film that provides corrosion protection and facilitates adhesion for paints or powder coating. Chemical film is very thin and adds no appreciable dimension to the parts.
Note: this film is not intended to be a cosmetic finish. Many factors including alloy influence the appearance such that not every part will look exactly like the next one (6.8 of Mil-dtl-5541f).
Process Values:
Clear and yellow Chromate available
Good corrosion resistance
Poor abrasion resistance
Excellent paint base – does not add dimension
Electrical conductive coating
Type 1A coatings: thicker/heavier, designed to be stand-alone protection
Class 3 coatings: thinner, well suited for paint/coating adhesion and electrical conductivity
Coating is also available in a trivalent, RoHS compliant version.
Certified for the Following Specifications:
MIL-C-5541 Type I Class 1A & 3 (clear & yellow)
MIL-DTL-5541 Type II Class 1A & 3
AMS 2473 (yellow)
Explore Our Facility and Capabilities