Hard Imaging eclipses all other decorative processes
This process eclipses other decoration processes as it produces a permanent image embedded within the anodized coating Mil Spec Type II (Anodize) and Type III (Hardcoat). That means the anodizing process can be applied to a multitude of shapes without adding undesirable surface thickness.
The ladybug image above is a photograph of a Hard Imaging on a sheet of aluminum.
Any image or decorative design that can be digitally created or controlled on a computer can be permanently embedded in an anodized surface. Because of the digitally controlled computer interface of the image, final designs or images have the tremendous advantage of being able to adjust the image size to fit the product.
Current technologies such as "film dipping" do not allow the decorator or facility to adjust the image to the part. This locks the facility into buying one size of a repeating pattern of film that can't be changed or modified to add text. For example, a film dip image with a 5" x 4" leaf doesn't fit well on a 1" x 2" part. The leaf ends up covering the entire part rather than allowing the full pattern to be reduced and blended into the surface of the part.
Hard Imaging™ surpasses all other current technologies with unbeatable durability, hi-resolution imaging, ability for variable data and design flexibility.
Today, the industry is used to seeing solid anodized colors (solid blue, red, black, etc.). This process allows a rainbow of colorful digital images to be embedded into the anodized coating while still meeting Type II and Type III anodizing specs.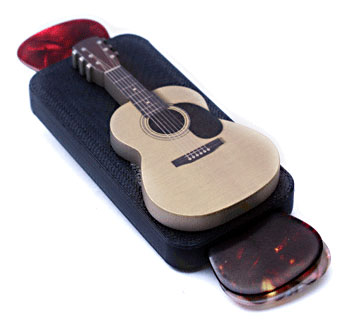 Testimonial: Quick Pick™
I cannot praise Hard Coat Inc. high enough. They took my concept to a totally new level. I originally worked with a metal stamping company but all they could turn out was nickel plated stainless steel. Some decals were tried but that was totally ineffective. Hard Coats patented process is nothing short of remarkable. The precision which they displayed making the 1 1/4 X 2 1/2 anodized guitars for my invention was beyond my expectations.
It didn't matter if it was 100 units or several thousand they are all perfect and durable.
Bruce Paterson CEO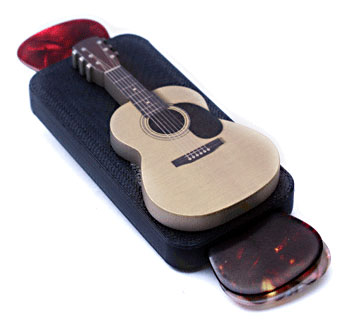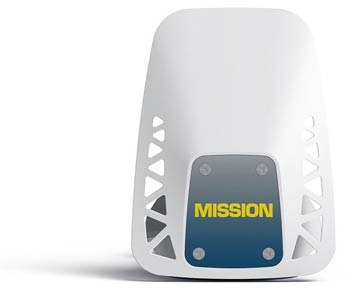 Testimonial: Mission Boating
We wanted a modern look to our product that we didn't feel conventional screen printing or painting could deliver. When we came across Hardcoat Inc. with their Hard Imaging technology we felt we had found exactly what we were looking for. The combination of unlimited design options and the durability of an anodized surface was the perfect combination for our water-sports application.
Mission LLC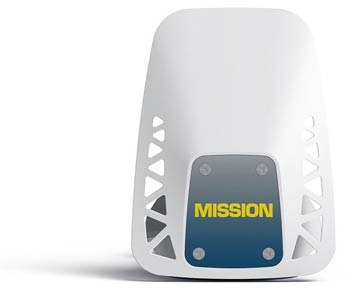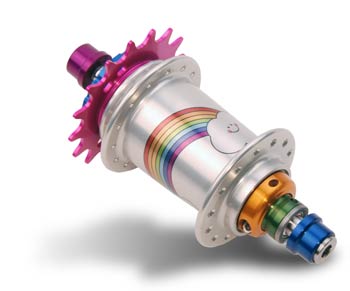 Testimonial: Onyx Racing Products
Because of Hard Coats Hard Imaging process, we have successfully found a solution that would give the most robust finish regarding quality, performance, and cost efficiency. During my research on the aluminum color coatings out in the market, I have come upon a lot of options. While most of them were good, I have found the perfect product for our company needs. Compared to the other products I saw, I found that Hard Imaging is the best and met all our qualifications for a tough, durable, full color coating that stands up to the abuse of the bicycle hub.
The Hard Imaging is an excellent quality, very efficient, and very effective product. I strongly recommend the Hard Imaging solution for your full color anodizing needs.
Onyx Racing Products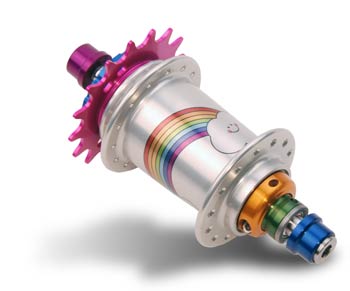 Precision Parts, Designs and Instruments
Because of the embedded nature of the image, there is practically no surface thickness and little or no weight added. This means threading two parts that have been image anodized will thread with ease because the threads have not been affected. Equipment with high tolerance fittings can be imaged without retooling.
Weight and Décor Applications
When it comes to reducing the weight of an aluminum part, this process is indispensable. Typical coatings and paints add weight to a product. With this patented process, decorative designs are no longer burdened with transporting extra weight – think aircraft, vehicles, boats, etc.
Day-to-Day Products
Ever thought of aluminum windows, doors and siding anodized with a natural grained wood pattern? The market is only limited by our imagination – cookware, decorations, jewelry, file cabinets, back splash boards, refrigerators, etc.
Sporting goods from archery and fishing equipment to rifles and bats.
Military applications abound when you think of the camouflage requirements of our armed services.
Benefits: 
Quality designs and imaging in full color
Durability
Lightweight = cost savings
Weather resistant 
Cost